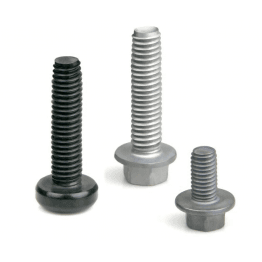 ZOOM
The optimal thread rolling screw for  metal and light alloys assembly.

TAPTITE 2000® high performance thread rolling screws offer many opportunities to reduce your in-place fastening costs, avoiding tapping operations and providing excellent mechanical properties.

The special design improves thread forming process and strenghtens the assembly into holes drilled, punched or cast in Steel, aluminium and light alloys .
Advantages of TAPTITE 2000® screws.
• Reduction of the overall cost of assembly. Eliminates the need of pre-tap and all associated costs when using machine screws.
• More ergonomic assembly. Excellent Axial Alignment provides low axial end load to initiate thread forming.
• Eliminates cross-threading problems associated with screws assembly into pre-tapped holes.
• Excellent pull-out and vibration loosening resistance.
• Transmit higher clamping to the assembly.
• High prevailing torque.
Design specifications for TAPTITE 2000® screws.
Apart from the references available in stock, we produce customised screws to fit your exact requirements.
To improve their functionality, TAPTITE 2000® screws can be produced under different head styles, recess, dimensions, material and coating configuration. 

TAPTITE 2000® can adapt to your assembly needs:
• TAPTITE 2000®"CA" specially recomended for assemblies when clearance holes and pilot holes are not aligned.
• TAPTITE 2000® "SP"™ specially recommended to maximize the full thread engagement in shallow blind holes.
• TAPTITE 2000® CORFLEX®-'N' exclusive for aluminum and light alloy assemblies, improves bending and resistance to heavy load cycles.

For further information on options available, please contact our applications engineers.
Recommended hole design for TAPTITE 2000®screws.
Recommended dimensions for hole diameter and lenght of engagement are available at DESIGN GUIDELINES.
Applications of TAPTITE 2000® screws 
TAPTITE 2000® screws have been specially designed for the assembly of steel and light alloys in:
• Components that require a low threading torque.
• Structural components that require a high pull-out resistance.
• Components with high tightness requirements.

Automotive components - Electric material - Household appliances - Electronics
See products in stock