For the assembly of very hard plastic and thermoset.
REMFORM®'F' screw is the best solution for the assembly of very hard materials such as glass fiber-reinforced plastics, thermoset plastics, phenolic resin ...

To the REMFORM® features, REMFORM®'F' has a smaller pitch.
Advantages of REMFORM®'F' screws.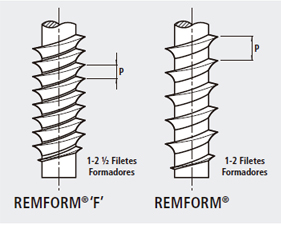 • The smaller pitch of REMFORM® 'F' thread increases the contact along the shank of the screw, improving pull-out resistance in assemblies on thermoset materials.
• It allows for shorter engagement depth, ensuring higher clamping of the assembly.
Design specifications for REMFORM®'F' screws.
Apart from the references available in stock, we produce customised screws to fit your exact requirements.
To improve their functionality, REMFORM®'F' screws can be produced under different head styles, recess, dimensions and coating configuration. 
For further information on options available, please contact our applications engineers.
REMFORM®'F' boss design recommendations.
Recommended dimensions for hole diameter and lenght of engagement are available at DESIGN GUIDELINES.
Applications of REMFORM®'F' screws.
Pumps for liquids - Automotive - Enclosures – Lighting- Furniture
See products in stock